+ Click here to: Contact Brian +
Amazon Five Star. A MASTER WORK!!!!!
This is absolutely the very best book available for hypnotists. I've amassed a good library of hypnosis and related modalities and this is by far the best. It's a PhD in Hypnosis and Hypnotherapy. This book will help you 1000 fold in getting great results. Brian is the Best. This book is way more than you could possibly find anywhere else-- It is better than 10 other hypnosis books put together. A great resource for any hypnotist's ongoing education and library. If you only buy one book on hypnosis, this should be it. Not really for a beginner, but it wouldn't hurt. HIGHLY recommended. By John Skrypek - February 18, 2015
Amazon Five Star. Fantastic!! By iiiAutumniii
This is the best language pattern book out there. I've dog-eared two of my own and I now buy them as gifts for fellow hypnotists, hypnotherapists and friends in the healing arts. I am the effective, fantastic hypnotist today in part because of what Brian has shared with me in this Fantastic piece of work....or should I call it art?? Mandy Noyes CHT - September 9, 2013
++ Page Link: Purchase Lower Cost Direct via Paypal (with credit card): Even Lower Cost As An Ebook: Sales letter (Full Description) Hypnosis Manual And Self-Esteem CD ++
Los Angeles, Hollywood & West Hollywood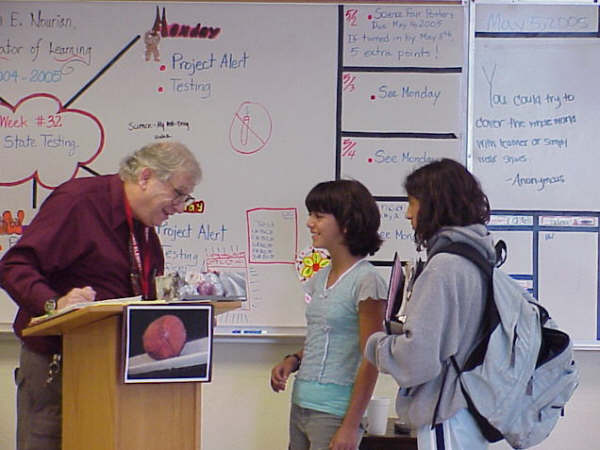 Brian Teaching Hypnosis & Hypnotherapy at local high school in Beverly Hills: After class discussion
-o Mind-bending For Mind-mending o-
-o Wizard Ways With Words o-
Volume one (so far) of
"The Alchemy Of Consciousness."
Brian's last word on words.
ISBN 1-4276-2203-5 or
ISBN 978-1-4276-2203-7


Products listed on this site,
may be purchased against a credit card,
via Paypal.com
Email me for other discounted direct
prices/shipping, especially for multiple items.



Also available with my self-hypnosis
audio C D, MP3 or tape, "Self Esteem Etc."
and with accompanying transcript
for a complete learning tool if so desired.
Click on
"Link To Purchase Self Esteem CD"
below.



++ Page Link: View or Purchase Self-esteem Audio ++